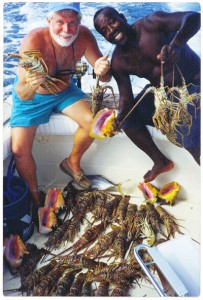 It was a cold and drizzly day in Jacksonville that January morning. It's 1985 in Florida and little did I know that when I answered my office phone that day, I had embarked on an adventure that would change my life.
I answered the phone and It was my old friend Island Eddie. "Go to the airport" he said "get on a plane and fly to Georgetown in the Exumas. I'll meet you on the dingy dock at the Peace and Plenty Hotel at happy hour." These words tugged at my heartstrings.
Naturally, I was never one to argue about taking a trip to the Islands, so I left the office mumbling something about an errand. First stop was my newly purchased, and as yet unnamed, 50-foot boat (Later to be known as 'Sorry Dog'…amazing co-incidence). I did have to pack something for my 3 day adventure. A longtime traveler of the islands (Joanie, Island Eddie's girlfriend) had given me 3 rules to follow when traveling in the islands:
Rule 1: When traveling through the islands, wear just enough jewelry so that if you lose your money (in any of a number of ways), you can sell it and buy a ticket home.
Rule 2: Travel light. You can always swap a beer for what you need.
Rule 3: Always take enough beer to get back home.
I will only be gone three days, I don't need much. What could go wrong. I ended up taking seven t-shirts and seven swim shorts in a tote bag and slipped on my faithful flip-flops. I Looked around, my mind reeling with the decisions of what to take and what to leave behind. Breathe…Breathe…Breathe, heck, I don't need anything else I'll be back in less than a week.
I felt this inner siren song rising, urging me on, her whispered voice breathless with heated anticipation, blinding me to the knowledge of the past. Time seemed to be my enemy. Nothing was happening fast enough. Finally, I turned off the lights of my now defunct Christmas tree and left.
The siren song continued to serenade me with wild, yet barely glimpsed visions of paradise all the way to the airport. Once I had my ticket to Georgetown firmly in hand, it was time to face that one last chore. It was time to let someone know what I was doing. Both my boss and my girlfriend were less than thrilled when I called them from the airport saying, "I'll be back in less than a week!"
The plane landed in Georgetown, late in the afternoon to beautiful weather. I made it to the Peace and Plenty Hotel in time to meet Island Eddie for drinks. My first inkling that there might be a kink in my plan was after we had a few drinks. Island Eddie and I were both well oiled by then and he says. "I'll make you a deal, If you get on the boat and go with us," wheedled Island Eddie, "we'll go all the way to St. Croix in the Virgin Islands." I had no real knowledge of St.Croix but the siren song was getting louder making it hard to think. Finally I asked, "How far is that?". "About 2000 miles from Jacksonville," Island Eddie replied casually. "It should only take two to three weeks."
Now any responsible person would have taken a moment and considered the fact that said person was only prepared for a max of 7 days and that both the boss and girlfriend were told that it's a 3 day trip. At that point, the siren's song was drowning out all responsible thought, so I heard my self say "I can agree to that".
Since I was never one to waste an opportunity, I traded the remainder of my round-trip airline ticket to the bartender for a round of drinks. It was only proper to make a toast to our newest 2 week adventure.
My boss and girlfriend sure are not gonna be happy. I'm sure they will understand that I need to take a two week vacation. "I'll be back in two weeks, no problem".