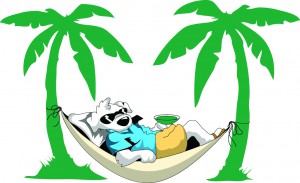 Carl says "When I was 12 years old, my shop woodworking teacher asked us all what we wanted to build, I said a 10 ft boat. He said NO WAY, it would be too big to fit in the locker. I said what if I built all the pieces, get them in the locker and come in one weekend and assemble it all, so he agreed. So as not to fill up the locker, I stuck the pieces down my pants and smuggled them home for fine tuning.  On the great anticipated weekend, I glued and screwed my first boat together and got an A- PLUS, I was hooked!"  
He acquired the name Sorry Dog some years later when he took off on a 3 day fishing trip to the islands.  Six months later, he ended up in the British West Indies! He was lying in a hammock and the bartender was talking to some people and said 'talk about a "Sorry Dog", this guy came down here for a 3 day trip six months ago and hasn't gone home yet!'. The name stuck! When he got home, he painted it on his boat and started selling boats and having fun doing what he does best!
30 years later, Sorry Dog still has a nose for finding those dream boats for his friends.  All his customers become friends and he sees them on the docks all the time. He has sold the same boat 4 and 5 times thru the years.
Sorry Dog has become somewhat of a legend in Florida. Go to any marina in the state and mention "Sorry Dog" to the dock-master and he'll most likely have a story to tell you about Carl.
So sit back, grab something with alcohol in it, give your spouse a kiss and go on your own adventure with Sorry Dog.